2017 is going to be a big year for Indian real estate. Falling interest rates and a growing economy heed good days ahead for home buyers and property investors. Square Times lists out the top real estate markets to invest in this year. We have taken prospects of the region in consideration and delved on insights as to present performance of these markets.
1. Bengaluru
Least impacted by Demonetization, Bengaluru is witnessing strong demand across all property types. Apple has recently announced that its first manufacturing facility in India would come up here, multinationals and local firms have already made sure to have a presence in this city.
JLL City Index has ranked it as the most dynamic city in the World. Pwc in a report published last year ranked in No.1 for investment prospects in 2017. Much of the city's growth can be attributed to its robust educational infrastructure which ensures availability of trained power to the several companies established here, especially in the IT/ ITEs space.
2. Hyderabad
An increase in commercial property offtake is expected to boost demand for housing. It was ranked No.5th in JLL's City Index of most dynamic cities. (It was ranked 17th in 2016, the rise a clear indicator of its fast growth). The Telengana unrest had hampered the real estate growth in the city for some time. But political stability and resolution of statehood demands have ushered in a revival of sorts for the real estate markets. Gachibowli is emerging as the micro market to watch for in Hyderabad as it is being viewed as the best alternative to Hitec City.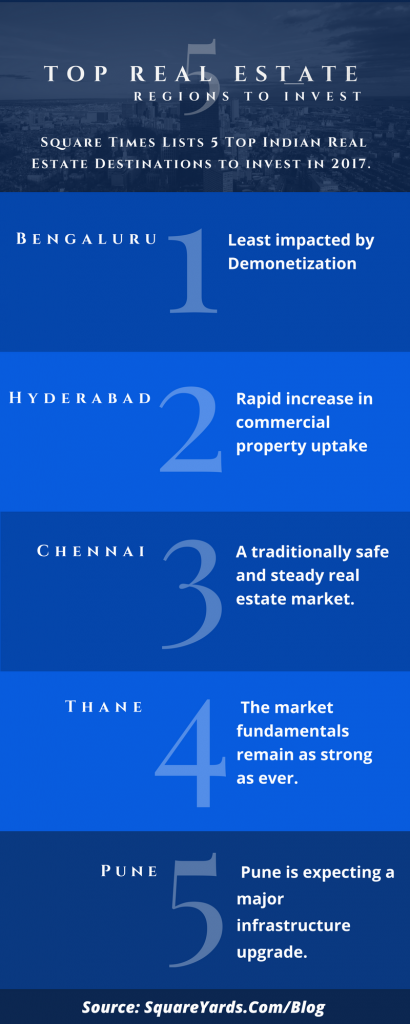 3. Chennai
A traditionally safe and steady real estate market. The trends look positive this year too. Ranked 17th most dynamic city in the global city index by JLL. The region around OMR shows great promise for capital growth. Chennai's property market is reasonably priced and will benefit from the government's focus on affordable housing.
4. Thane
Thane finally made it to the smart city list last year. The market fundamentals remain as strong as ever. It has a strong industrial base and is well connected through major highways and expressways.
5. Pune
One of the first cities to be featured in the Smart City list, Pune is expecting a major infrastructure upgrade. Its rank in JLL's City Index was 13. The Metro rail project has received approvals and the new airport project is on track too.
6. Noida
Noida is performing better than other NCR regions due to better planning and rising demand from end users. Off late, Noida has also witnessed the entry of reputed big brands of real estate. Tata Housing, Godrej Properties, WTC are some of the names that can be listed here. This trend will encourage new launches in 2017 and we see a significant rise in supply this year. Work has picked up at the new airport at Jewar, which will have a positive impact on real estate sentiments in the region. The sub-markets of Greater Noida and Yamuna  Expressway are attracting industry majors due to cost effectiveness and better planning. Resolution of farmer disputes and land acquisition issues augurs well for future projects of the region.